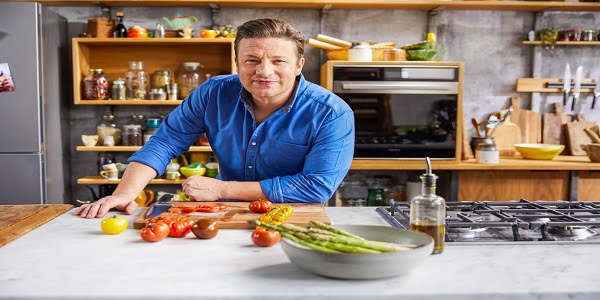 Are you a very recent addict to Jamie Oliver's books and looking for what to read next? Don't worry, we are here to help you with a complete list of Jamie Oliver books in order!
James Oliver is a British chef and restaurateur. He is known for his approachable cuisine, which has led him to front numerous television shows and open many restaurants.
Born and raised in Clavering, Essex, he was educated in London before joining Antonio Carluccio's Neal Street restaurant as a pastry chef.
While serving as a sous-chef at the River Café, he was noticed by Patricia Llewellyn of Optomen, and in 1999 the BBC aired his television show, The Naked Chef. This was followed by a first cook book, which became a No. 1 UK bestseller.
His TED Talk won him the 2010 TED Prize. In June 2003 Oliver was awarded a Member of the Order of the British Empire.
We looked at all of the books authored by Jamie Oliver and bring a list of Jamie Oliver's books in order for you to minimize your hassle at the time of choosing the best reading order.
Hope this article about Jamie Oliver books in order will help you when choosing the reading order for his books and make your book selection process easier and faster.
Happy reading!
---
Jamie Oliver Books In Order
We propose the following publication order when reading Jamie Oliver's books:
You can get all the books listed for free with Kindle Unlimited Membership Plans (First Month FREE). Click here to subscribe to Kindle Unlimited Membership Plans #ad.
The Naked Chef (2000)
The Naked Chef Takes Off (2001)
Happy Days with the Naked Chef (2002)
Jamie's Kitchen (2003)
Funky Food for Comic Relief (2003)
The Return of the Naked Chef (2004)
Jamie's Dinners (2004)
Jamie's Italy (2006)
Something for the Weekend (2005)
Jamie's Little Book of Big Treats (2007)
Jamie's Ministry of Food (2008)
Cook Your Way to the Good Life (2008)
Jamie's Red Nose Recipes (2009)
Cook With Jamie (2009)
Jamie Does (2010)
Jamie's America (2010)
Meals in Minutes (2011)
Jamie's Food Revolution (2011)
Jamies Monster Bake Sale (2011)
15 Minute Meals (2012)
Jamie Oliver's Great Britain (2012)
Save with Jamie (2013)
Food Escapes (2013)
Comfort Food (2014)
Everyday Super Food (2015)
Super Food Family Classics (2016)
5 Ingredients (2017)
30-Minute Meals (2017)
Christmas Cookbook (2017)
5 Ingredients – Quick Easy Food (2017)
Jamie Cooks Italy (2018)
Veg (2019)
You can get any two books from list for free with your Audible Free Trial Subscription. Click here to subscribe Audible Free Trial #ad.
---
Your Thoughts About Jamie Oliver Books In Order
Are you a huge fan of Jamie Oliver's books like us?
Do you disagree with this list about Jamie Oliver books in order?
Have you just begun reading the books?
What's your plan for the reading order?
Do we miss any books to add to our list?
Don't forget to share your thoughts in the comments section below.
---
Also read
---