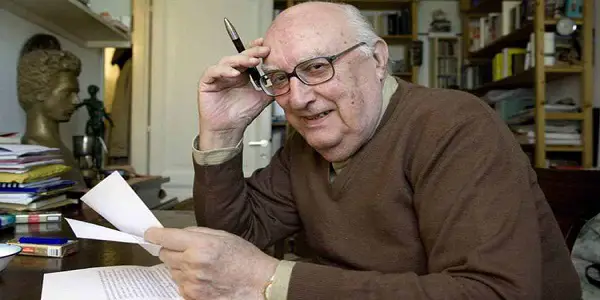 Are you a very recent addict to Andrea Camilleri's books and looking for what to read next? Don't worry, we are here to help you with a complete list of Andrea Camilleri books in order!
Andrea Camilleri is the author of the spectacularly successful Montalbano mystery series and many other novels set in nineteenth-century Sicily. His Montalbano novels have been made into an Italian TV series.
About 10 million copies of his novels have been sold to date and are becoming increasingly popular in the UK, Australia and North America. In 1998 Andrea Camilleri  won Nino Martoglio International Book Award.
He received a number of honorary degrees from several Italian universities, among which are the IULM University of Milan, the University of Pisa, and the University of L'Aquila. Camilleri also received honorary degrees from University College, and the American University of Rome.
We looked at all of the books authored by Andrea Camilleri and bring a list of Andrea Camilleri's books in order for you to minimize your hassle at the time of choosing the best reading order.
Hope this article about Andrea Camilleri books in order will help you when choosing the reading order for his books and make your book selection process easier and faster.
Happy reading!
---
Andrea Camilleri Books In Order
We propose the following publication order when reading Andrea Camilleri's books:
You can get all the books listed for free with Kindle Unlimited Membership Plans (First Month FREE). Click here to subscribe to Kindle Unlimited Membership Plans #ad.
The Shape of Water (2002)
The Terra-Cotta Dog (2002)
The Snack Thief (2003)
Voice of the Violin (2003)
Excursion To Tindari (2005)
The Smell of the Night / The Scent of the Night (2005)
Rounding the Mark (2006)
The Patience of the Spider (2007)
The Paper Moon (2008)
August Heat (2008)
The Wings of the Sphinx (2009)
The Track of Sand (2010)
The Potter's Field (2011)
The Age of Doubt (2012)
The Dance of the  Seagull (2013)
Treasure Hunt (2013)
Montalbano's First Case (2013)
Angelica's Smile (2014)
The Fourth Secret (2014)
Game of Mirrors (2015)
A Beam of Light / Blade of Light (2015)
A Voice in the Night (2016)
A Nest of Vipers (2017)
The Pyramid of Mud (2018)
Death at Sea (2018)
The Overnight Kidnapper (2019)
The Other End of the Line (2019)
You can get any two books from list for free with your Audible Free Trial Subscription. Click here to subscribe Audible Free Trial #ad.
---
Your Thoughts About Andrea Camilleri Books In Order
Are you a huge fan of Andrea Camilleri's books like us?
Do you disagree with this list about Andrea Camilleri books in order?
Have you just begun reading the books?
What's your plan for the reading order?
Do we miss any books to add to our list?
Don't forget to share your thoughts in the comments section below.
---
Also read
---